The reversible products based on LCD technology (Liquid Crystal Display) operate like a conventional thermometer marking the current temperature through a changing color.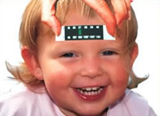 These indicators are flexible and adhesive, so it can be adapted to curved surfaces. They have not electronic components neither dangerous substance, so they are an appropriate solution to know the temperature of a place or an object at all times, as well as for the promotional field.
The temperature range that covering go from -30 º C to +90 º C degrees Celsius and its accuracy is + / - 1 º C degree Celsius. Because of its versatility and accuracy use is extended even on the medical sector, where is permitted to monitor the temperature's patient during surgery interventions. You can expand the technical information of this product in the documentation section.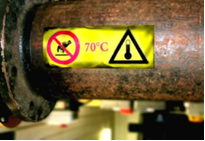 With this technology, are also made products that perform a color change to a determinate temperature to display or hide a message from the thermo sensitive label or of the product itself.
This is useful and very attractive on products promotional type, but it also has a great application on its use for occupational risks labelling possible areas such as radiators or hot pipes acting as a warning. Also in the food sector, is used to control the correct refrigeration of refrigerators and exhibitors.
On the online sale website you can find the entire product range with their features. If you want to access, click onto the left upper "shopping basket button ".