Unassisted temperature control during the lacquered is thermally hardened in a polymerization oven.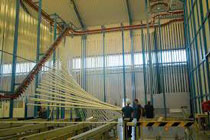 Purpose: ensure that a temperature about 200 ºC is reached in the oven. In this way, we will achieve an homogenous lacquered coat, fully resistant to adverse climate conditions.
Thermosensitive product used: Thermax 5 levels, G Range (188-210ºC). If you want to access to the online website sales, click onto the left upper "shopping basket button".
Work done: lacquered aluminum is made with a paint based on a polyester resin in powder. To achieve an homogenous distribution of the paint onto the aluminium piece, the paint is appplied by the called electrostatic deposition.

This is achieved because the electric charge of the paint is the opposite of the aluminum profile. Then, freshly painted profiles are placed in an oven to reach temperatures of around 200 ° C to make that paint melts and polymerizes properly. This process is also called Thermo-hardening. The chosen label changes color in 5 temperatures from 188 ° C to 210. In this way we can ensure that the correct temperature has been achieved. After 30 minutes approximately in the oven, the aluminum is highly resistant to any adverse weather conditions for later use.
The lacquered aluminum allows to protect the piece against the natural deterioration and also provides an extensive range of colours to satisfy the aesthetic requirements of future customer as well.
This temperature indicator has been implemented in several Spanish companies of lacquered aluminum since 2008 and it's still being used.