Temperature control during gum volcanization in automobile components. Checking correct vulcanized.
Purpose: verify the temperature reached during the porcess of vulcanizing of joints of gum.
Thermosensitive product used: COLOTEMP 120ºC. If you want to access to the online website sales, click onto the left upper "shopping basket button ".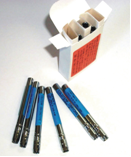 Work done: some pen strokes COLOTEMP 120 are painted in several pieces prior to its passage through the vulcanizing tunnel of the gaskets. In this process, a monitoring and recording of the temperature reached to ensure that the boards will then have adequate hardness is required. Rubber gaskets should ensure a tight closure of certain automobile engine components to prevent leakage of various liquids involved with the operation of this motor (brake, coolant, ...). The color change pencil applied to the gasket, indicates that the correct temperature has been reached.
This application has been in place since 2005.