The technology of colour change by temperature is a precise system for use in industry. It consists of different products such as sensors, thermometers, paints, pencils or paints capable of recording colour changes by temperature variation in a process.
The temperature control, by product can be of two types:
·

Irreversible, where acts as a registrar or sensor of maximum or minimum temperatures, and it will report if it has reached or not a certain temperature.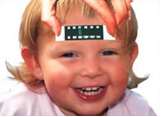 ·

Reversiblein which the product acts as a conventional thermometer, indicating the surface or temperature of the product at the moment.
There is an special range of products oriented at low temperatures, which functions as a thermograph or temperature registar, to monitor the cold chain compliance.
Finally there are products that are available in other formats such as inks, oriented to promotional field; pencils with a clear application in industrial welds and paints, which permit realise thermal maps of surfaces such as reactors or gas deposits.
The product catalogue is organised into four families:
Irreversible temperature indicators

They are indicators with temperature points that realize a control of reversible type about the product to which they adhere. Cover a range of temperature at between +29 ºC and +290 ºC degrees centigrade. They are suitable for quality control, production and guarantees.
Lcd reversible thermometers

They are thermometers or flexible and adhesive sheets made with LCD (Liquid Crystal Display) that change the colour depending on the current temperature. Available to temperatures from -30 ºC to +90 ºC degrees Celsius.

They are adhesive indicators of reversible type that realize a similar function on a thermograph or temperature registering, showing if one product has been exhibited in a determinate temperature. Range from -17 ºC to +20 ºC degrees Celsius.

They are products to temperature control both reversible and irreversible. Depending on the type, a total temperature range covered between -10 ° C and 1270 ° C degrees centigrade.