Fast and reliable diagnosis of the foot to recommend the appropriate insole.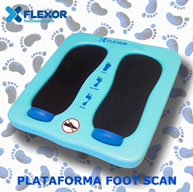 Purpose: a manufacturer of insoles for shoes - specialized in sports and orthopedic range of high quality - had devised a system based on liquid crystal technology scanner. The system should be allowed to obtain a snapshot of the foot. With this equipment, sellers and authorized stores can offer customers a quick analysis of your footprint. And they can recommend the most appropriate templates depending on the costumer. Ultimate goal: improving sales through more adequate and reliable advice.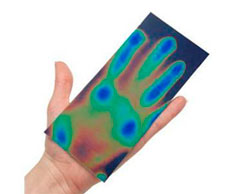 Product thermosensitive used: LEAF DIGITEMP 20-25 ° C
Work done:
The scanner should contain thermochromic flat bases for both feet. Platforms that changed color in real time and allowed display the full tread, were sought. For this reason we resort to liquid crystal sheets. Whose standard size was 300 mm x 450 mm could include soles in full and even admitted that the manufacturer cut its size requirements.
This equipment can quickly capture an image of the footprint generating different colors according to the points of higher and lesser pressure. So the seller can diagnose how the customer foot is (flat, normal or dig) in seconds and can offer the most suitable template.